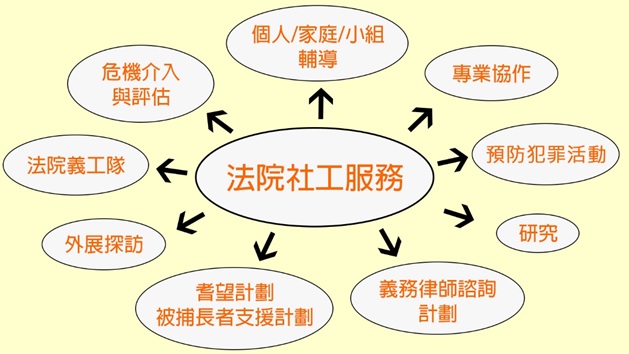 Service Brief
Court social worker reach out to individuals (and their families) who are suspected of infringing the law, or being taken into prosecution process, to provide comprehensive counseling services in Hong Kong.
Service Objective
The service provides comprehensive counseling and information services to individuals in conflict with the law. We are committed to alleviate stress and assist them to resolve their psychological and welfare problems throughout prosecution processes. Our goal is to empower them to develop healthy lives with confidence, harmony and rule of law spirit.

Service Users
Arrestees and people in conflict with the law of Hong Kong and their family members
Scope of Service
| | |
| --- | --- |
| Outreaching visit | Professional social workers seek to reach out and provide counseling and welfare assistance to the defendants and their family members in different places, eg. Police station, courts, remand centres & prisons, hospitals etc. |
| Counseling Service | Counseling service is provided to help service users solving problems relating to family, emotion, behavior, health, finance and employment, etc. |
| Referral Service | If further assistance is required, social workers will refer service users to other services for follow-up. For examples, emergency fund, intelligence and psychological assessment by clinical psychologist, home improvement and daily living skill training by occupational therapist, employment counseling and training, and psychiatric service, etc. |
| Free Legal Advice Scheme | Voluntary lawyers were invited to provide defendants with legal advice, while our social workers assist them to complete legal procedures. |
| Court Volunteer Service | Trained volunteers visit the Magistracies' Courts regularly to care for defendants and their family members, promote crime prevention and convey social caring messages. |
Service Fee
Free of Charge
Service Hours
Monday to Thursday

Friday

Saturdays, Sundays and public holidays

9 a.m. to 1 p.m.,
2 p.m. to 5:45 p.m.
9 a.m. to 1 p.m.,
2 p.m. to 6:00 p.m.
Closed
Service Application
Service users could initiate to obtain the service through direct application or referral made by other organisations.
Service Withdrawal
Service can be terminated upon worker's professional judgment and mutual agreement made with the service users. Service users may terminate service voluntarily at any juncture of the service process.
Enquiries and Contact
Address:Unit G4, G/F, Fu Tak House, Tai Wo Hau Estate, Kwai Chung, New Territories, Hong Kong
Tel:(852) 2567 8530
Whatsapp:(852) 6071-1317
Fax:(852) 2784 5600
Email: csws@sracp.org.hk